Rules of Play for Sterling Hills Golf Club
Play is governed by U.S.G.A. rules unless modified by local rules.
KEEP PACE with group ahead of you.
Slow players MUST allow faster players to play through.
Each group is REQUIRED to play within the maximum pace of play chart listed on each hole. Any group unable to maintain pace of play must proceed to the next tee. Play ready golf.
All carts must remain on the cart paths around tees, greens, on all par 3 holes, and otherwise as posted.
Proper golf attire required.
Private coolers not allowed.
Please…
Fill divots with sand
Rake tracks in bunkers
Repair ball marks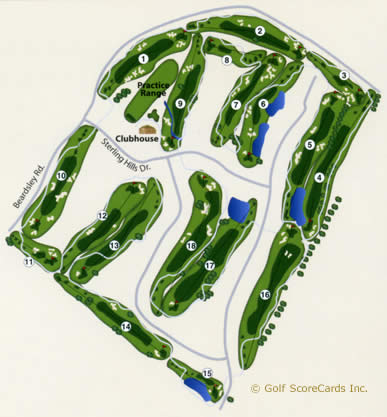 | | | |
| --- | --- | --- |
| Tees | HCP | Net | |
| Gold | M 73.3/133 | W 80.0/144 |
| Black | M 71.4/128 | W 77.7/139 |
| Black/Blue Combo | M 70.0/124 | W 76.0/135 |
| Blue | M 69.2/122 | W 75.0/132 |
| Blue/White Combo | M 68.2/119 | W 73.8/129 |
| White | M 67.5/117 | W 72.9/126 |
| White/Red Combo | M 65.2/111 | W 70.1/119 |
| Red | M 63.1/106 | W 67.5/112 |
| | | | | | | | | | | |
| --- | --- | --- | --- | --- | --- | --- | --- | --- | --- | --- |
| Gold | 433 | 414 | 222 | 525 | 444 | 378 | 350 | 187 | 388 | 3341 |
| Black | 416 | 400 | 202 | 495 | 428 | 355 | 333 | 167 | 368 | 3164 |
| Black/Blue Combo | 367 | 369 | 171 | 495 | 400 | 355 | 333 | 167 | 368 | 3025 |
| Blue | 367 | 369 | 171 | 476 | 400 | 328 | 311 | 154 | 351 | 2927 |
| Blue/White Combo | 342 | 344 | 160 | 442 | 369 | 328 | 311 | 154 | 329 | 2779 |
| White | 342 | 344 | 160 | 442 | 369 | 301 | 292 | 136 | 329 | 2715 |
| Handicap | 11 | 7 | 9 | 15 | 1 | 3 | 17 | 13 | 5 | |
| White/Red Combo | 342 | 227 | 160 | 442 | 276 | 248 | 292 | 136 | 265 | 2388 |
| Par | 4 | 4 | 3 | 5 | 4 | 4 | 4 | 3 | 4 | 35 |
| Handicap | 1 | 17 | 13 | 5 | 15 | 3 | 7 | 11 | 9 | |
| Hole | 1 | 2 | 3 | 4 | 5 | 6 | 7 | 8 | 9 | Out |
| Red | 263 | 227 | 125 | 362 | 276 | 248 | 292 | 131 | 265 | 2189 |
| Par | 4 | 4 | 3 | 5 | 4 | 4 | 4 | 3 | 4 | 35 |
| Handicap | 11 | 7 | 17 | 13 | 15 | 1 | 3 | 9 | 5 | |
| | | | | | | | | | | | |
| --- | --- | --- | --- | --- | --- | --- | --- | --- | --- | --- | --- |
| Gold | 379 | 160 | 411 | 406 | 442 | 190 | 501 | 466 | 524 | 3479 | 6820 |
| Black | 355 | 146 | 380 | 390 | 419 | 175 | 466 | 431 | 504 | 3266 | 6430 |
| Black/Blue Combo | 355 | 146 | 339 | 368 | 372 | 164 | 466 | 399 | 504 | 3113 | 6138 |
| Blue | 346 | 141 | 339 | 368 | 372 | 164 | 438 | 399 | 459 | 3026 | 5953 |
| Blue/White Combo | 346 | 141 | 319 | 368 | 372 | 164 | 438 | 370 | 431 | 2949 | 5728 |
| White | 330 | 127 | 319 | 354 | 360 | 146 | 406 | 370 | 431 | 2843 | 5548 |
| Handicap | 14 | 18 | 6 | 4 | 8 | 10 | 16 | 2 | 12 | | |
| White/Red Combo | 300 | 127 | 272 | 302 | 360 | 125 | 402 | 370 | 431 | 2689 | 5077 |
| Par | 4 | 3 | 4 | 4 | 4 | 3 | 5 | 4 | 5 | 36 | 71 |
| Handicap | 12 | 18 | 6 | 16 | 4 | 14 | 10 | 2 | 8 | | |
| Hole | 10 | 11 | 12 | 13 | 14 | 15 | 16 | 17 | 18 | In | Tot |
| Red | 300 | 105 | 272 | 302 | 268 | 125 | 402 | 314 | 313 | 2401 | 4590 |
| Par | 4 | 3 | 4 | 4 | 4 | 3 | 5 | 4 | 4 | 35 | 70 |
| Handicap | 10 | 12 | 2 | 8 | 18 | 16 | 14 | 6 | 4 | | |