"Zuk's Zaturday Zeries"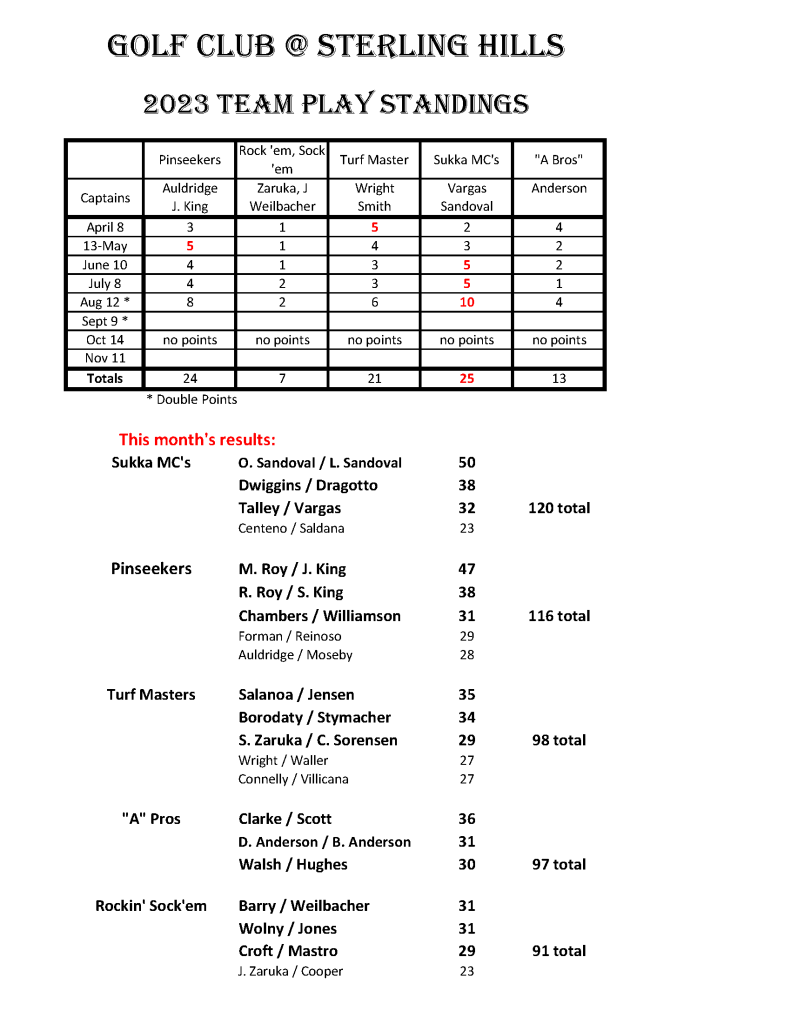 NEXT EVENT
Saturday, September 9
Format: Partner 6/6/6
-First six holes (Scramble – 35% of A Players handicap + 15% of B Player's)
-Next six holes (Shamble – 80% of handicap)
-Final six holes (Better Ball – full handicaps)
Tees: Blue/White Combo (Men), Red (Women)
First Tee Time: 7:30
Team Play winner will be the the team with the lowest aggregate score of its top three partners.
Costs:
Special Club Member green fee ($45)
-Optional Cart fee ($17)
-Mandatory Prize Fund buy-in ($24): 100% distributed in certificates for Golf Shop merchandise. Payouts to 1/3 of field. Twice as -many net winners. (No pair can win in both Gross and Net.)
-Hole-in-One pot ($1): Currently at $252.
-Optional TEAM skins: $20 for Gross ($10 from each player). $20 for Net. $40 for both.
-Team Play Prize Fund ($10): 100% distributed in cash to the winning team to split.
Guest Policy: Guests are welcome on a one-time-per-year basis. After that, they need to join the Golf Club @ Sterling Hills. If a member at another club, the SCGA offers a partial rebate for multiple memberships.
GHIN Index: Players without an established index are not eligible for any of the net competitions. Or they can play to a zero handicap.