Golfers…. As our course improvements continue, we want more feedback from you…. Please go to our Instagram and Facebook pages and watch for contests… Help us remake Sterling Hills Golf Club while having fun and winning stuff!
Sterling Hills Golf Club
CLUB CHAMPIONSHIP UPCOMING REGISTER NOW AT OUR PRO SHOP
Club Championship Round 1 – Sunday September 29 / 9:02 am start
Club Championship Round 2 – Saturday October 19 / 7:30 am start
Entry Fee $140
Annual Pass Entry Fee $50
Pay outs for low gross and low net champions
Sterling Hills will add $500 to the purse based upon 20 registrants.
Winners of low gross and low net will each receive two complimentary
weekend rounds & two complimentary weekday rounds!
Optional $15 skins each day
Round 1 from white tees
Round 2 from combo blue/white tees
JAWS wedges are arriving soon with the "most aggressive grooves in golf"…
Check out this video from June 13th on an update to our 17th fairway that many of you are sure to like!
Just click on this link immediately below to watch it.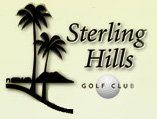 STERLING HILLS GOLF CLUB –
" A great value for Ventura County Golf!"
"Southern California!"   GREAT GREENS FORE NOT MUCH GREEN!"
PAR 3 SPECIAL EVENT
JUNE 22ND  –  4:00 PM SHOTGUN RESULTS:
CLICK ON THE LINK HERE TO VIEW ALL RESULTS…
July 27th Partners Best Ball Tournament Results:
Gross Score Best Ball
1st Place:  Brad Kane and Steven Rue  Total gross score   66
Jim Simonson and Homer Lopez(blind draw)                    70
Chris Amendt and Monte Amendt                                         75
Homer Lopez and Arturo Vargas                                           74
Net Score Best Ball:
Homer Lopez and Arturo Vargas                                            60
Jim Simonson and blind draw Homer Lopez                       62
Brad Kane and Steven Rue                                                       63
Michael Wright and Bob Thren                                                65