Sterling Hills Golf Club Course Policies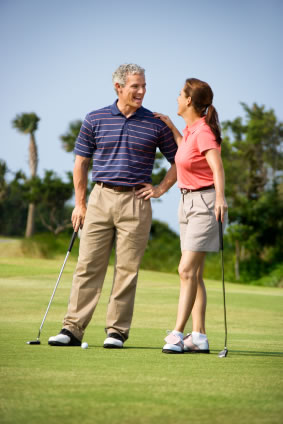 Sterling Hills has several policies in place to maintain the integrity of the course and to promote safety and enjoyment among golfers. If you have any questions about any of the policies listed here, please don't hesitate to contact us.
Dress Code
Appropriate golf attire is suggested for the course. Tank tops, cutoff pants, athletic shorts, swim suits and jogging clothes are not considered proper attire. Golf shoes are not required, however, the shoes you wear must be a soft-sole shoe, soft-spike golf shoes or tennis shoes. Soccer or baseball shoes are not allowed.
General
For tee times please telephone us at 805-604-1234. We do require a 50% non-refundable deposit to reserve tee times for a group of more than eight golfers.
Walking while playing is allowed anytime Monday through Friday. On Saturday, Sunday and Holidays walking is not permitted until Twilight time.
All golfers need to have their own set of golf clubs. Rentals are available.  Contact the golf shop for more information.
Two golfers per golf cart. Spectators are welcome with a cart fee of $10.00.
All food and beverages are to be purchased at Sterling Hills Golf Club. Personal coolers are not allowed.
When walking with pull-carts, please keep carts away from tee boxes, bunkers, hazards, and greens.